You CAN overcome Childhood Trauma and free yourself from the shame and blame
Since 2014, Virtual EMDR has helped 10,000+ people overcome Child Trauma and mental health disorders
Start right now. Feel the difference after your first session.
TRY FOR FREE TODAY >>
Discover this REVOLUTIONARY SCIENCE-BACKED treatment to overcome Childhood Trauma
… without pills or drugs
… without spending thousands of dollars on therapy
… without waiting for an appointment or stepping out of your home
… without stigma or fear of others finding out
EMDR is recognized and used by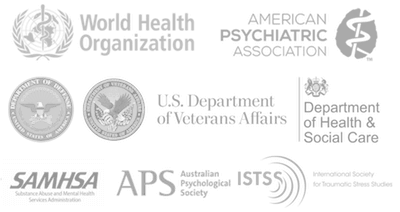 90%
of people feel noticeably less Emotional Distress after a Virtual EMDR session
85%
of Virtual EMDR sessions take less than 60 minutes – with no traveling or waiting!
65%
of people use Virtual EMDR at night between 6 PM and 6 AM, when traditional help is often not available

Why Virtual EMDR is so effective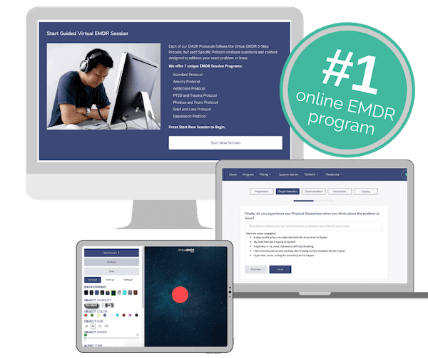 Virtual EMDR is designed by people who have been in your exact shoes. We know first-hand how difficult it is to get help.
We make it easy and painless for you to get help. When you need, as often as you need, for as long as you need it.
Virtual EMDR is effective, because it is:

EXPERT DESIGNED
Live a life with confidence that you can successfully manage anything

ALWAYS AVAILABLE
Use Virtual EMDR from wherever you feel safest, 24/7, anytime you need and as often as you need 100%

ANONYMOUS
Easy-to-follow interactive program you can use on your own, with 100% privacy

AFFORDABLE
One full month of UNLIMITED access costs less than 1 single therapy session!
Does this sound familiar?

can help you if you are...

Haunted by inner demons and events from your childhood

Unable to shake off feelings of fear and helplessness

Eaten up by shame and self-blame for things beyond your control

Living on edge and feeling like you could explode any time

​Struggling to cope with the pain of your past

​Never feeling safe or able to trust anyone
Overcome CHILDHOOD TRAUMA
FEEL LIKE YOU AGAIN
in just minutes a day
People describe their "Instant Life-Changing" transformation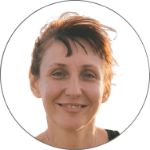 I came from a pretty rough childhood. It was routine to watch my mother do drugs with her boyfriend or to be sexually inappropriate right in front of me. She would scream at me and tell me that I was a "f*#@ing pig" which is something that no 9 year-old needs to hear.
As an adult, I never thought I could be happy. At the lowest point in my drinking career, I woke up in a park downtown. My wallet and shoes were gone. I had a black eye, and no idea what had happened.
When I started using Virtual EMDR, my life literally went through an amazing transformation. I finally made peace with my abusive childhood. The traumatic memories no longer had the same kind of pull, and this allowed me to get some distance from alcohol.
I no longer have to live my life at the bottom of a bottle, which is a pretty miserable place to be. Thank you, Virtual EMDR!
- Shelly (USA)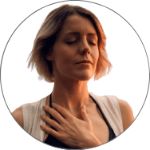 As a young child, I experienced extreme domestic abuse. My father was an alcoholic and frequently beat my mother. Experiencing this abuse made me feel helpless and frozen.
This trauma shattered my confidence and self-esteem, which led to an eating disorder and drug use.
Still today, after much healing, I still have thoughts of "What is wrong with me?"
Virtual EMDR helped me come to terms with the trauma I experienced as a young child. Now I know that I am in control. I am whole, I can be happy and peaceful.
Thank you Virtual EMDR from the bottom of my heart. You are helping me walk into the future with peace and happiness.
- Britt (email)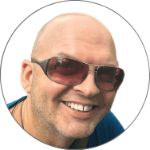 As an adult, I found myself internalizing the shame of a mother who had abandoned me. I was abusing, scarring, and abandoning myself daily. It was all I knew.
I began recovery 25 years ago, working with half a dozen therapists and counsellors. But inevitably I ended up "abandoning" them - the repeating pattern of my life. Little change ever happened – I was in survival mode.
Yesterday, while using Virtual EMDR, something in me changed. My false self fell aside. I felt relaxed, peaceful, and unafraid. I was vulnerable but safe. I'd not seen this coming. All I can say is, Virtual EMDR works!
After just a week, Virtual EMDR has changed my life. Thank you!
- Al Green (USA)
SARAH W.
What I like best about Virtual EMDR is the immediacy of it. With trauma symptoms, they just pop up out of the blue and you never quite know when they're going to happen.
If you're doing EMDR with a therapist, you'll have a scheduled time and you'd have to be able to pull up those symptoms at that time.
But with Virtual EMDR, you can just stay in the moment and work with them as soon as they happen. It's so convenient to have at home.
MELISSA J.
I was struggling with Complex PTSD, and also insomnia, depression, anxiety, and overall heightened state of hyper-vigilance.
With Virtual EMDR, I noticed an immediate sense of relief. Even though I didn't understand what was happening, by just following this little dot on the screen and then thinking about my feelings, I was healing!
Right away, from a scale of 1 to 10, my numbers significantly went down when thinking of my traumatic experience. (Virtual EMDR) helped me to ground myself, be able to handle certain triggers with much more stability and ease.
JENNIFER H.
The next day after I've done a session, it's like I can feel something in my brain is different, it's fresher, it's newer…
I've been able to let go of some serious traumatic events. I'm actually now regressing all the way back to my childhood. I've used it to work through traumatic events and abusive relationships. I've used it for grief
I can't speak highly enough of Virtual EMDR! I actually have recommended this program to a lot of people that I know.
Even if:
you've tried every other treatment and are ready to give up hope
you're working with a therapist but are not seeing results fast enough
you have complex life-long pain from childhood or recurring trauma