HAVE YOU BEEN EXPOSED TO THESE 10 ADVERSE CHILDHOOD EXPERIENCES?
16 Feb 2017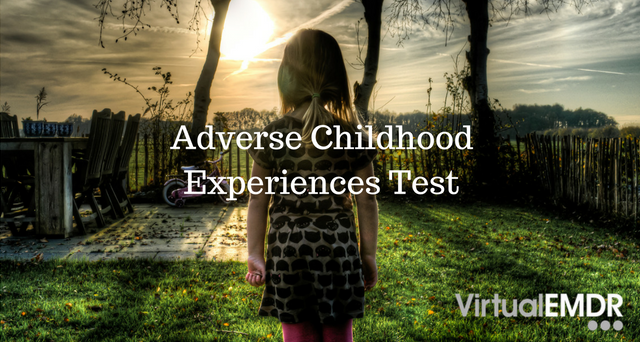 Tags: PTSD , Childhood Trauma , Quiz
When parents are absent, neglectful, abusive, or fail to provide a safe, stable, and loving environment, children grow up to be adults with problems.
The ACE Test is short, a mere 10 questions. But it is considered a gold-standard assessment tool in determining things like how well your career may go, if you'll be addicted to drugs and alcohol, and even how long you'll live.

Read More and take the test.
The CDC (Centers for Disease Control)-Kaiser Permanente Adverse Childhood Experiences (ACE) Study is one of the largest investigations of childhood abuse and neglect and later-life health and well-being.

The study has demonstrated a direct association between adverse childhood experiences (ACEs) and health and social problems as an adult. The data from the ACE Test is taken from tens of thousands of participants across the United States over a period of nearly two decades.

Ready to take the test? Let's begin.
*Answer yes or no for each of the following questions. Each yes answer is one point.
Prior to your 18th birthday:
Did a parent or other adult in the household often or very often… Swear at you, insult you, put you down, or humiliate you? or Act in a way that made you afraid that you might be physically hurt? Y/N

Did a parent or other adult in the household often or very often… Push, grab, slap, or throw something at you? or Ever hit you so hard that you had marks or were injured? Y/N

Did an adult or person at least 5 years older than you ever… Touch or fondle you or have you touch their body in a sexual way? or Attempt or actually have oral, anal, or vaginal intercourse with you? Y/N

Did you often or very often feel that … No one in your family loved you or thought you were important or special? or Your family didn't look out for each other, feel close to each other, or support each other? Y/N

Did you often or very often feel that … You didn't have enough to eat, had to wear dirty clothes, and had no one to protect you? or Your parents were too drunk or high to take care of you or take you to the doctor if you needed it? Y/N

Were your parents ever separated or divorced? Y/N

Was your mother or stepmother:
Often or very often pushed, grabbed, slapped, or had something thrown at her? or Sometimes, often, or very often kicked, bitten, hit with a fist, or hit with something hard? or Ever repeatedly hit over at least a few minutes or threatened with a gun or knife? Y/N

Did you live with anyone who was a problem drinker or alcoholic, or who used street drugs? Y/N

Was a household member depressed or mentally ill, or did a household member attempt suicide? Y/N

Did a household member go to prison? Y/N​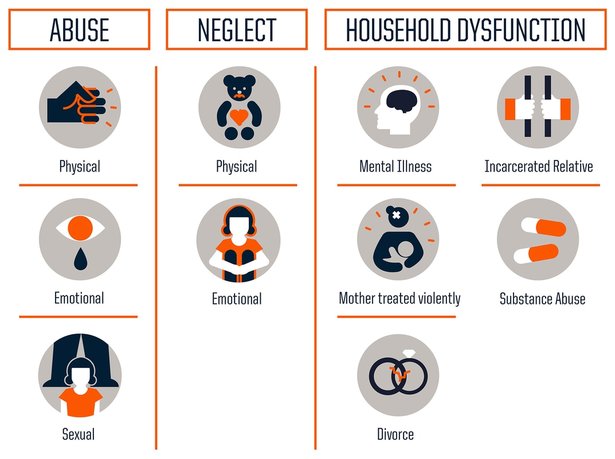 Source: Centers for Disease Control and Prevention Credit: Robert Wood Johnson Foundation
​Now that you have your ACE Test score, what does it mean?

Unfortunately, as you score higher on the ACE Test, you also have a higher risk of social and mental health problems and even disease.

Does this mean you need therapy? A 12 step group? Group therapy? What about in-patient? EMDR Eye Movement Therapy?

​The bad news is that according to research from the CDC (Centers for Disease Control), if you score high on the ACE Test the answer is probably yes.
The Virtual EMDR Eye Movement Therapy Program can help remove many of the symptoms that may come along with having a high ACE Test Score. You can sign up here.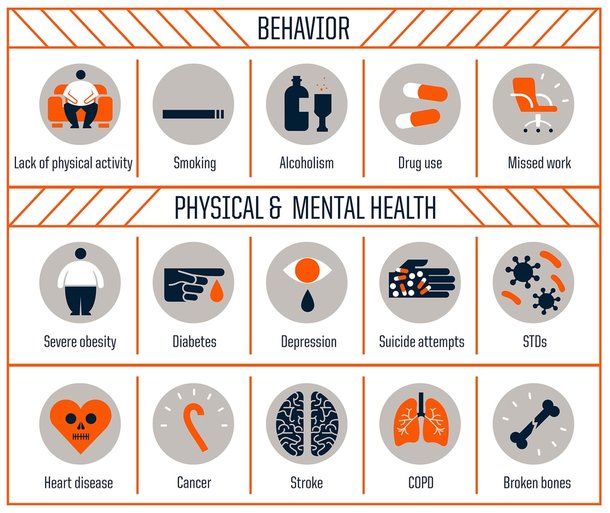 Source: Centers for Disease Control and Prevention Credit: Robert Wood Johnson Foundation
As your ACE score increases, so does the risk for the following medical, social, and mental health problems:
Myocardial infarction

Asthma

Mental distress

Depression

Smoking

Disability

Reported income

Unemployment

Lowered educational attainment

Coronary heart disease

Stroke

Diabetes
​
And for those with an ACE score of 4 or more, the likelihood of depression increases 460%, pulmonary lung disease increases 390%, hepatitis 240%, and suicide an astounding 1220%.

It's important to note that just because you have a high ACE score doesn't mean you're doomed. You may have had many positive experiences in your life that balance out the bad things that happened.