SEEKING VOLUNTEERS FOR OUR TRAUMA TREATMENT STUDY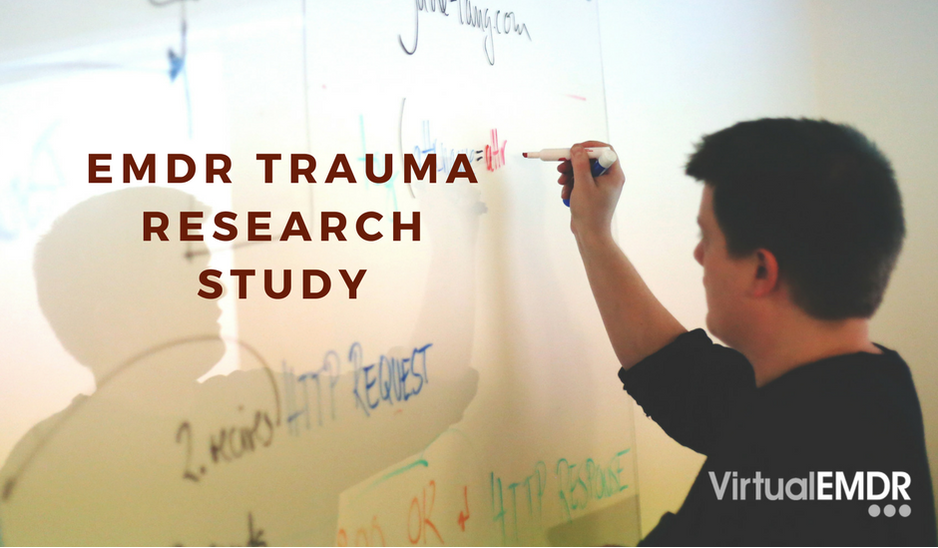 If you have a single-incident trauma, then we really need your help for a research study.

​The Virtual EMDR Eye Movement Therapy Program is conducting a new study on the effectiveness of at-home, self-administered EMDR Therapy on people who are struggling with what the psychology community calls single-incident traumas. By participating in this study, you will also gain free access to the Virtual EMDR Therapy Program.

​​​

And if you take a little time to help us with our study, you in-turn will be helping other people struggling with trauma and PTSD.
*When contacting us, be sure to mention that you are emailing to take part in the Trauma Treatment Study.
SINGLE INCIDENT TRAUMA
A single incident trauma means that there was a single life event that caused the person to have trauma symptoms.

This is different than what is called complex trauma which means that the trauma and PTSD symptoms stem from multiple and repeated events which may take place over the course of years or even a lifetime- trauma coming from more than one place.

​
A single traumatic life event may cause a profound change on a survivor's ability to sleep normally, function socially and at work, or relate to the people around them.
After a traumatic event, survivors may experience symptoms like anxiety, unwanted or repeated thoughts about the event, social isolation, depression, anger, irritability, or even an increase in addictive behaviors like drinking or drug use.
Our study focuses on people who have has single incident trauma.
Some examples of single-incident trauma:
Being the victim of a violent crime

Being sexually assault or raped

Trauma from a serious accident, illness, or medical procedure

Surviving a natural or manmade disaster

Experiencing war, terrorism, or political violence

Traumatic grief or separation from a divorce, death, parental abandonment, or loss of a child

Experiencing combat in the military

Emotional or psychological abuse, severe bullying

PLEASE NOTE: If you have been diagnosed with COMPLEX trauma and PTSD, then this study is unfortunately not appropriate for you. This study is only for people with single incident trauma.
HOW CAN YOU GET INVOLVED?
You can help to make a difference for people struggling with trauma and PTSD symptoms.

The Virtual EMDR Therapy Program is looking for volunteers for an at-home, online study on people with single incident traumas.

In the past, we have tested Virtual EMDR on people with trauma and have been very happy with the positive results. But this study is a bit different because it focuses specifically on single-incident trauma.

In order to participate in the 100% confidential study, here's what you'll be required to do:
Take a short survey before starting the EMDR Therapy. We will ask about the nature of your trauma along with some other basic details for the study.

You will be provided with free access to the Virtual EMDR Therapy Program. For the study, you will need to complete a Virtual EMDR Therapy Session weekly, totaling six sessions over the course of a month.

After the month is over, answer a second short questionnaire with some brief questions about your results. How has the EMDR made you feel better?

Be available for a brief follow up email in the event that a researcher needs to contact you with any follow up questions.
And that's it.
You must be at least 18 years old and in good physical health to participate.
Our goal is to start this study in mid to late June 2017, which is also PTSD (trauma) Awareness Month.

To sign up for the Virtual EMDR Single Incident Trauma Study, please email us at customerservice@virtualemdr.com or click on the CONTACT US button below. *We get quite a few emails so when you Contact Us, please mention that you want to be part of the study.

If you have any questions about your suitability for this study please email us and ask. We will get back to you as soon as possible.

Also, if you are a therapist with a patient you think might be suitable, please contact us.

And a big thank you in advance to all the people who will donate their time and effort to helping others by participating.

If this study is successful we may be able to someday help thousands or even millions of people get past their trauma and PTSD symptoms.
Like this story? Share it on