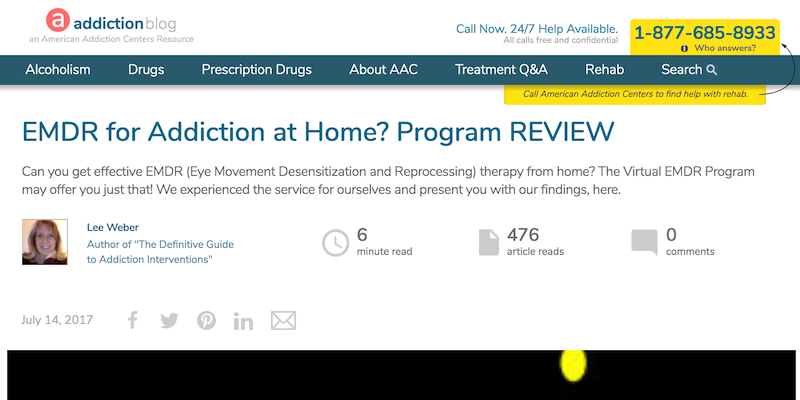 Real Virtual EMDR User Testimonial
EMDR for Addiction at home? Program review
Lee Webber is a published author, medical writer, and woman in long-term recovery from addiction. She is the author of "The Definitive Guide to Addiction Interventions" (2018).
Lee reviewed the Virtual EMDR program for addiction for the Addiction Blog.
Excerpts from her review are reproduced below:
Can you get effective EMDR therapy from home? The Virtual EMDR Program may offer you just that! We experienced the service for ourselves and present you with our findings, here.
Q: What types of addiction can the program help?
A: The creators of Virtual EMDR say it is effective for alcohol and drug addiction, compulsive gambling, addictive overeating, sex and love addiction, porn addiction, addictive shopping, and online/internet addictions.
Q: Would we recommend it?
A: Yes! We had a positive experience using Virtual EMDR and can say that it did work to help achieve a state of positivity, relaxation, and calm.
While the tech itself is relatively simple to create, the intent behind the program help you set your own goals and targets. We liked the customization aspects of the program, but the template/text could use more simple language to explain program instructions.
Virtual EMDR says that it may not work for everybody, but that nearly 90% of participants said that they felt the EMDR was effective.
Most importantly, the program comes with a complete 30 day money back guarantee. If the program doesn't work for you, you can cancel and get your money back. A money back guarantee is an excellent way for people to experience new modalities for themselves.
FEEL CALMER IN LESS THAN 30 MINUTES
9 in 10 people feel an improvement in their emotional state after their Virtual EMDR session – in less than 30 minutes!