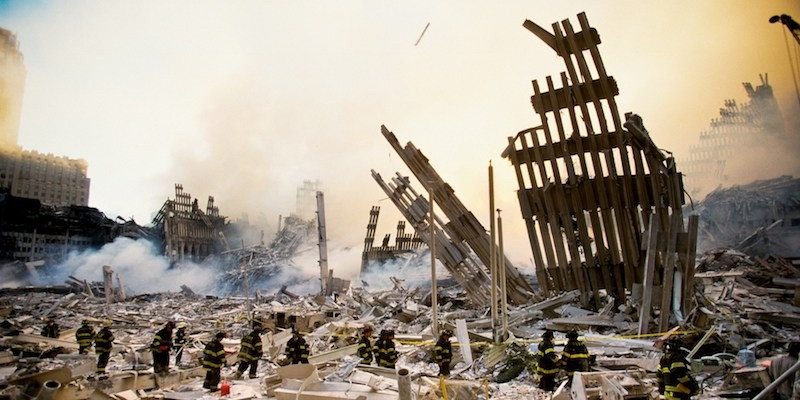 Real Virtual EMDR User Testimonial
Ending the Trauma cycle of my life after 9-11
I served in the U.S.Navy from 1993-1995, and shortly after, became a certified EMT then went on to nursing.
On September 11, when the World Trade Center attack took place I was in school just outside of Manhattan. At the time, they immediately called for any available medical volunteers to come help.
"I got this," I thought. "I'm well trained, in good shape and people need help that I can provide." So off I went.
I was not ready. They were not ready. There was no plan in place, how could there be?
I passed a series of check points, soldiers with M16s in full body-armor searched through my car with bomb dogs. It seemed they did this every mile once I got near the city.
Check point after check point someone said, "out of the car," and had me explain who I was, where I was going and why I was there.
I arrived at the collapsed buildings close to 4pm, parked my car, and started to walk toward more soldiers, more guns, more angst, anger, fear and confusion. The sky was dim, the soot hung in the air like a cloud. I wrapped a t-shirt around my face and found a makeshift triage set up across the street from the where World Trade Center once stood.
Asking who was in charge, I realized that absolutely nobody was in charge. I kept busy, offering service to any independent stations I came across. It was chaotic, but everyone had good morale.
By evening, another lost-looking guy about my age asked, "Did you see it?" It hadn't occurred to me to look. We went out through the opposite doors to look and there "it" was. The end of the world where the buildings once stood.
To make a long story short:
Since this experience, building up my life, then tearing it down, has been my cycle ever since this experience.
The thing I have found to be absolutely true with trauma, at least in my case and others I've observed, is that much of the time we don't know it is there.
I'd just wear it like a heavy wet suit or chain mail layer. Just weighing me down inhibiting my movements, effecting my decisions and therefore my actions. After a time both just became rotten under the weight of the suit and my behavior became self destructive.
I've tried just about everything at my disposal; therapy, self-hypnosis, constantly learning, and all the self-betterment programs I could get my hands on.I was introduced to EMDR through reading various books and wanted to give it a shot.
It was incredibly inconvenient to find an expert in my area and the co-pays were too pricey for me to go regularly. Thankfully, Virtual EMDR provided a solution and were willing to help.
Coming to find out that the build and repair trauma cycle may have existed even before 9-11.
I'm currently using Virtual EMDR to installing new beliefs and reaction to my PTSD symptoms.
I'm once again employed and participate well at work. I'm now working with life coach to restore some possibilities for my future.
I believe that a critical part of my ongoing stability and recovery is Virtual EMDR.
Thank you for your support!
Brian Howell (US Navy, World Trade Center First-Responder, Registered Nurse)
Editor's Note: If you are a member (active or veteran) of any military branch, Virtual EMDR salutes you for your service. Pls email us at customerservice@virtualemdr.com with your story and we will be happy to provide you with free access to Virtual EMDR.
FEEL CALMER IN LESS THAN 30 MINUTES
9 in 10 people feel an improvement in their emotional state after their Virtual EMDR session – in less than 30 minutes!